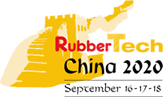 Date: 16-18 September, 2020
Stand: 3B265

The 20th International Exhibition on Rubber Technology brings you face-to-face with top decision makers from
some of the world's most successful food and beverage companies & Manufacturers of Ingredients & Machines.
You'll meet new contacts you couldn't get in front of before and solidify relationships with current customers.

With thousands of processors with purchasing authority in attendance, you will generate far more qualified leads
in Hairise than in four weeks of sales calls on the road…at a far more economical price.
The 20th International Exhibition on Rubber Technology stages in the fall, the perfect time for your customers to
attend and when they are ready to make purchases that sync with their budget cycles.
Looking forward to your arrival!